News
---
Latest News
November 2018
At the end of November 18 'Herz Ass W' came home for a spell, and then to go to Goulburn Valley Equine Hospital, Shepparton Victoria, for flushing of embryos by 'Millennium' Frozen Semen. This is the first breeding of 'Herz Ass W' and we hope this will be the beginning of many more progeny from this lovely mare from top Licenced Trakehner Verband Stallions in the future.
Watch the news for 2019!
October 2018
Again, 'Herz Ass W' and Brett attended the visiting Stefan Wolfe 6 Day Clinic at Di White's property, and really showed improvement in relaxation and suppleness.
Our young Colts in Austria are growing up, and becoming rather stunning Trakehners. We have high hopes for both of them. Both LUCKY and HIGH LIGHT are very well cared for by our great friends Elisabeth and Bernhard Wimmer of Gestuet Riegersburg, Austria.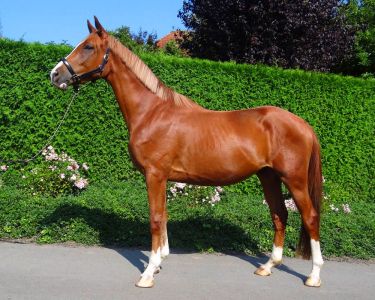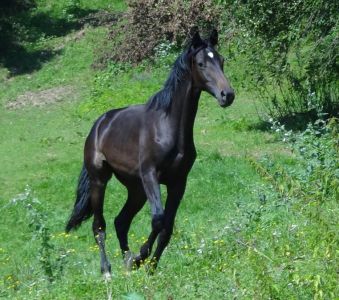 'Noble Monarch' has come home to live out his days in harmony, being ridden by Suellen and being spoilt by John. He has his mares in the opposite paddock and he is a very happy boy. (He turned 16 on 2nd Nov 18.)
Throughout the year, Brett Peel then competed 'Herz Ass W' in several Dressage Events where she did very well, competing at Novice/Elementary and training at Medium.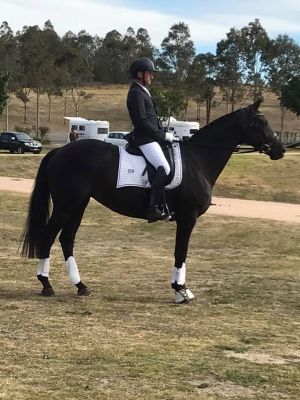 Then following the TA Tour MARCH 18, 'Herz Ass W' attended the 6 Day Stefan Wolfe Clinic held at Di White's lovely property. Stefan has been coming to Australia twice a year for some years, and for the last few years since her breaking in, Brett Peel has taken 'Herz Ass W' to this Clinic to get the best training for this lovely imported Premium St. S1 TV Mare.
We couldn't be more happier with how this beautiful Trakehner Mare is developing.
Early March 2018
In early March both 'Noble Monarch' and 'Herz Ass W' were entered into the Trakehners Australia National Tour with visiting Trakehner Verband Classifier Mr. Frank Wiesskirchen. Both horses were shown and ridden by Mr. Brett Peel who competed them in NSW Dressage Events. We were thrilled with their results, once again both winning their respective age Ridden Classes. 'Noble Monarch' winning a lovely saddle blanket with his name and bling all over it, and 'Herz Ass W' winning the top ridden horse in the National Tour, with a lovely embroidered rug, plus large sashes for each.
You can view and download a copy of the 2018 National Tour Magazine here.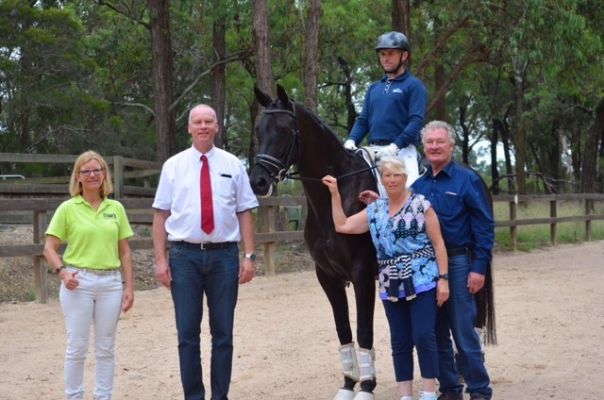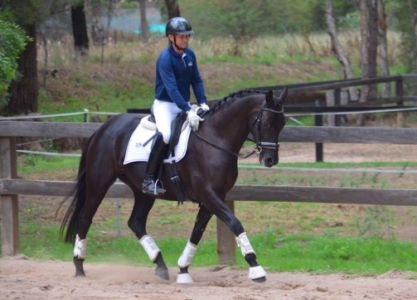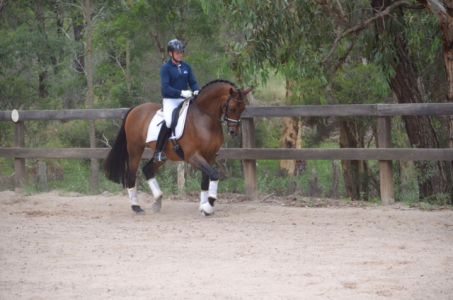 ---
October 2017
Photo of 5 month old "HIGH LIGHT", Champion Foal of the Danish Trakehner Verband Foal Registrations, Premium Foal, sold to Suellen and John Saals at the Trakehner Verband Licencing, Germany. This lovely youngster will travel from Denmark to Austria to join our other colt "LUCKY", and we will hopefully return him to the TV Licencing in 2019.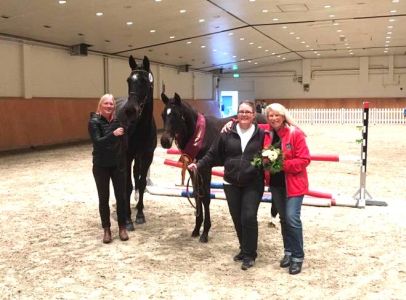 Photo of 2 year old "LUCKY", our colt in Austria in partnership with Bernhard and Elisabeth Wimmer. He is getting big and strong and enjoying the paddocks and horse friends at the Wimmers, as well as all the love and care they give him. Still a baby and has much development and growth to do, but stunningly beautiful.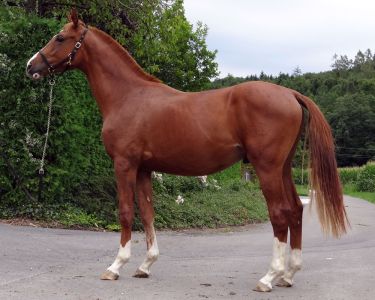 September 2017
In September 2017, both "HerzAssW" and "Noble Monarch" were once again entered into the visiting Internationally renouned Dressage Trainer Stefan Wolfe's Clinic. Both horses did extremely well, ridden by their Australian Rider/Trainer Mr. Brett Peel. To say that both horses had improved from the previous Clinic in February 17, would be an understatement.
"HerzAssW" – 6 yr old imported Trakehner Verband Premium State Mare, Germany – excelled and is doing all the Medium Dressage Work beautifully.
"Noble Monarch" – 14 year old Trakehner (now gelded, previously FEI Dressage National top 10) is going so beautifully with Mr. Brett Peel, and they are on the verge of going to FEI Dressage, after Brett winning 3 Advanced Dressage Competitions over the last six months. This is a dream for Brett, and is wonderful that Moni can take him there. They certainly look relaxed and Moni just floats across the arena.
Kingston Park Warmblood Stud look forward to the next few months of competition for these two horses. They certainly will have benefited from Stefan's and Brett's training.
March 2017
Both Noble Monarch and HerzAssW were taken to the Feb 17 Clinic of the visiting International Dressage Coach, Stefan Wolfe. Again, both horses improved over the 6 day clinic, and Brett was thrilled with both of them.
HerzAssW at the Feb17 Clinic: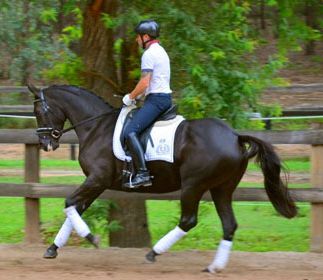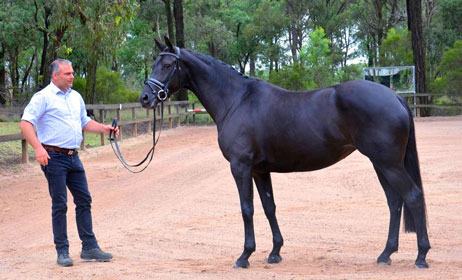 We were especially proud to have Noble Monarch and Brett, chosen by Stefan to ride in his Masterclass:
The Trakehners Australia Tour 17 was held in March, and both Noble Monarch and HerzAssW did extremely well scoring huge marks!
HerzAssW in ridden 5yr Pure Trakehner Mare, scored a wopping 80% even whilst it was raining slightly, it didn't dampen the beauty of this mare and how she is developing:
Noble Monarch also scored extremely well, getting a magic 78% in the ridden: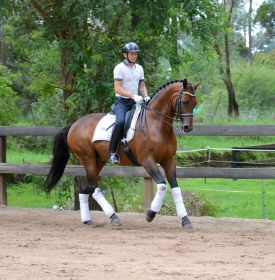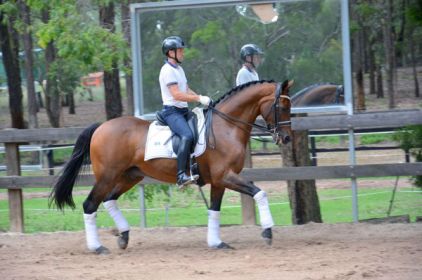 ---
2016
'Noble Monarch' was given a well earned spell at home for 8 months in 2015. He had a great time running around his paddock, and keeping his conversations going with the 'girls' in the herd, on the other side of the fence! After this time, we decided to send him to Mr. Brett Peel, who is the rider/trainer for our imported filly 'HerzAssW', to bring Moni back into work slowly and carefully. IT WAS THE right decision. Noble Monarch is fully returned to FEI Dressage with Brett Peel riding!
Brett took Moni out to SIAC in the pouring rain (below), and did a lovely test at Prix St George. Given the weather, both seemed pretty relaxed, if not very wet!!
In May 2016, Brett and Moni again at SIAC:
In July 2016, Brett and Moni at Clarendon:
'HerzAssW' our imported pure Trakehner Filly has also excelled over 2016.
In February 2016 she came 2nd in the Young Horse 4 yr old Class at Clarendon:
HerzAssW continued her training over the months and again did up proud at Clarendon with Brett Peel riding:
Both Noble Monarch and HerzAssW in training with Mr. Brett Peel, also attended the visiting International Dressage Coach, Stefan Wolfe Clinic, in October 2016:
The improvement of both horses, and the riding of Brett from this Clinic, has been very notable. Brett then decided to go to Germany for 7 weeks over the 2016 Christmas period, to train personally with Stefan in Germany.
At the end of 2016, in November, I went with my girlfriends to watch the visiting World Champion Dressage Rider, Charlotte Dujardon, at Werribee, in Victoria. What an inspiration she is! I had this excellent photo taken with her and my friends.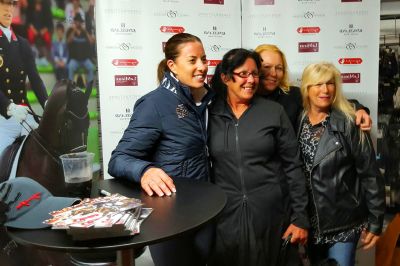 ---
December 2015
Well 2015 has been a year of great HIGHS for John and I at our Trakehner Stud.
We had the privilege of being part of the Trakehners Australia Tour 2015. Our young Imported Trakehner Verband Filly "HerZ Ass W" was due for Mare Classification with the visiting International Trakehner Verband Classifier Matthias Werner. We held this leg of the Tour at the Advanced Training Centre of the Dierks Family (Daniella, Judy and Clemens).
"Herz Ass W" had been registered by the Trakehner Verband in Austria as Premium Foal and John and I hoped that given her development, since arriving in Australia as an 8 month old foal, she would do well in her Trakehner Verband Classification. We had taken care to let her be a part of our Herd on our property, letting her get used to the Australian Climate, and to grow without stressors until she was ready for Mare Classification. As a 3 year old, she was sent to Daniella Dierks for training for the Mare Classification, which involved mouthing and lunging. We had decided NOT to have her broken in, prior to the Classification, on advice from Mr. Matthias Werner, International Trakehner Verband Classifier.
http://horsezone.com.au/news/premium-trakehner-filly-herzass-w-arrives-in-australia-2086/
Daniella trained "Herz Ass W" to perfection, and then organized for her very good friend, Mitchell Taff, to show her on the day.
We were all NOT DISAPPOINTED with the wonderful efforts of Daniella and Mitchell.
"Herz Ass W" achieved a PREMIUM MARE CLASSIFICATION SCORE, into the German Trakehner Verband Mare Studbook One.
The Dierks Family went out of their way to show Matthias Werner all the wonderfully talented horses in their Stables, and we all then attended a lovely Dinner that Evening, whereby lots of fun and laughs were had.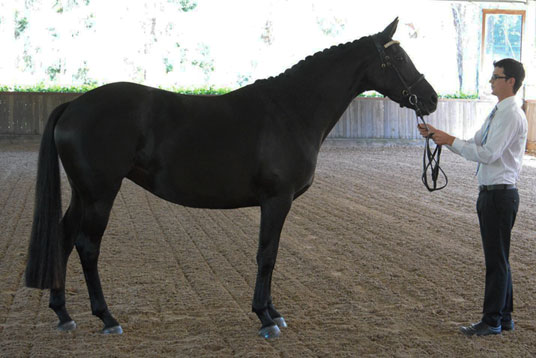 Herz Ass W with Mitchell Taff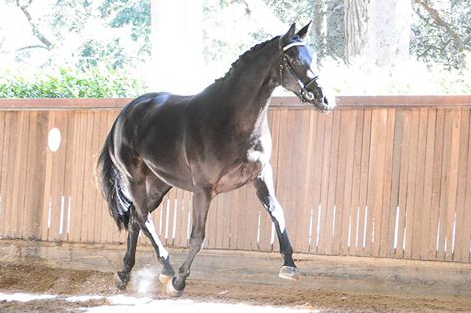 Herz Ass W
http://horsezone.com.au/news/trakehners-australia-tour-with-international-trakehner-verband-classifier-matthias-werner-5381/#zrcoyAwirSDbDtTe.97
Since her TV Premium Classification, "Herz Ass W" was then sent to Mr. Brett Peel to complete her Breaking In.
It was then decided by John, myself and Daniella that Brett should take "Herz Ass W" into the end of year Young Horse Classes to gain experience being out and about at shows and competition.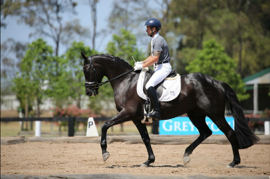 Herz Ass W with Brett Peel riding in her first Young Horse Competition
Never in our wildest dreams did we ever think that this young Trakehner Filly would do so very well at such a young age.
Brett took her to the October, November and December 2015 Young Horse Qualifiers for the 2016 Young Horse Championships, and has achieved 5 EXCELLENT Qualifying Scores for the 2016 YH Championships to be held in Victoria in March 2016, after only 3 competitions.
What an amazing accomplishment, on a young filly, who is 'hot to trot' and needing guidance and understanding whilst she learns what is expected of her!
This filly has SO MUCH potential, and as she is developing and gaining strength and understanding, she is really starting to show us all what she can do! She has a great future in Dressage, and we hope to keep the momentum going, but also need to flush some 'Millennium' Foals from this lovely filly. We will have to find the time in the 2016 Breeding Season for this.
Our AWHA Trakehner Stallion Noble Monarch, has been in work over the 2014 and 2015 years with Daniella Dierks, but due to a Severe Adverse Reaction to the Hendra Vaccine, (which has taken him over 14 months to get over), we made the decision to bring him home in August, after having him Gelded. He has been Frozen Semen Collected. For the 2015 TV Tour, Daniella rode Noble Monarch for Mr. Matthias Werner, at the Dierks Advanced Training Centre, and showed off all of Noble Monarch's Dressage skill at FEI. Moni remained in work for several months, then came home to us for a spell.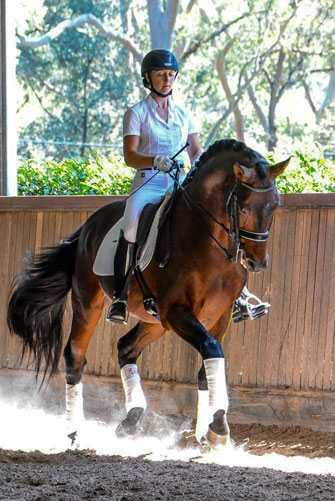 Noble Monarch and Daniella Dierks at the TA Tour 2015
We did not make this decision lightly, but felt he needed to come home, rest and run around his 5 acre paddock for the last months of 2015, to let him have the best chance of a full recovery, to enable his return to FEI Dressage Inter 1 – and onto Grand Prix for 2016.
WE ARE HAPPY to report, that Noble Monarch is now fully recovered, and definitely showing signs that he wants to return to his FEI Dressage Career.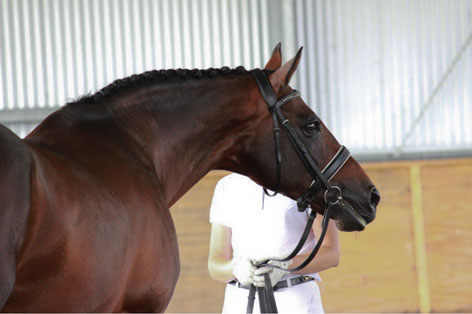 Beautiful Noble Monarch
John and I also decided to buy a young PREMIUM registered Trakehner Verband Colt, located in Austria.
We were able to purchase the young Colt "Herzlichen Glueckwunsch W"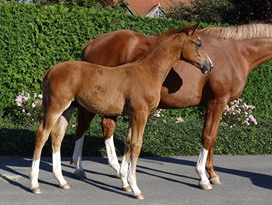 " Herzlichen Glückwunsch W " v. Glücksruf I a.d. StPrPrst Helene von Herzen W
Nicknamed "Lucky" by John and I, the above photo is of him at 10 weeks of age.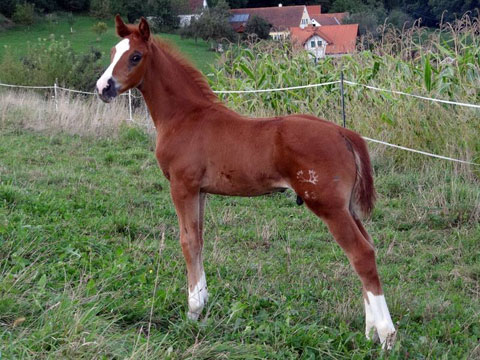 "LUCKY" with his Trakehner Verband Brand
The sire "Glücksruf I" - the dam line Fam.: O46A2 Grenzmaid (Gestüt Neustadt/D.) -Lucky aca "Herzlichen Glückwunsch W" 's dam line is the same at Herz Ass W : Fam.: T1402 Herbstgold (Gestüt Schmoel/Panker)
The Sire "Glucksruf 1" –
John and I and our Austrian Partners, hope this young Colt will do very very well in either Dressage or Jumping. He will be going to Germany in January 2016 and will stay there for training for his Trakehner Verband Licencing, which will take place in 2017.
What we decide after that – depends upon fate, God and the TV Judges!!! It is very exciting to own such a stunning Trakehner Colt, with such interesting bloodlines, located in Austria/Germany, and open to the European Market and Competition. This is something John and I are thinking more of doing in the future.
Kingston Park Warmblood/Trakehner Stud, looks forward to being part of the Trakehners Australia Inc., programs and to assist where we can for the promotion of the Trakehner Breed in Australia.
We continue to be members of the Trakehner Verband in Germany, and to also be in partnership with some wonderful Trakehner Breeders in Europe.
Wishing everyone in the Trakehner Community Worldwide, a very Happy and Safe New Year.
Suellen and John Saals.
---
November 2013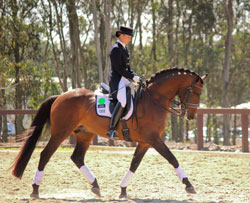 Noble Monarch places at the Australian National Dressage Championships. Prix St George 7th and Inter 1 10th. The International judges gave Monarch very good scores, eg. 68% 67.5% etc. There were only a couple of marks between the winners and the top 10 place getters in an extremely difficult field of highly talented horses, many of whom have been imported from Europe.
JatzStrike has been sold to a young showjumper with aspirations of going all the way to the top on this lovely big Trakehner Sporthorse gelding.
---
September 2013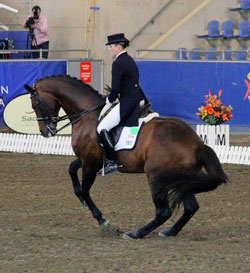 Noble Monarch places at the New South Wales Dressage Championships. Prix St George 7th, and Inter 1 3rd. Just under one and a half percent between the winner and 3rd place. This competition was nailbiting to watch. Noble Monarch and Daniella Dierks gave wonderful performances against very stiff competition after only being at FEI for 6 months. Congratulations to DD and Moni!
---
April 2013
Noble Monarch
gets written accolades in
Horsezone Magazine Article
.
---
March 2013
Noble Monarch Trakehner Stallion – collage of performance for 2013 (above).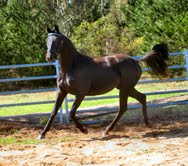 "HerzAss W" (imported) Australian National Winner Purebred Trakehner filly 2yrs and under.
Kingston Park Warmblood Stud's entered horses in the TA&AWHA Tour 13 all won or placed Nationally. So very very proud of my 5 horses that I put into the 'Trakehners Australia & AWHA Tour 13'. John and I could not be more pleased with how well our horses behaved, and scored Nationally. Thank you to 'Daniella Dierks' for riding our Trakehner Stallion 'Noble Monarch' and to 'Dee Vodden' for riding our Trakehner Sporthorse KPS 'JatzStrike'.
TA scores: Purebred Trakehner National winner under 2yrs- 1st 'HerzAssW' (imported)
Trakehner Sporthorses National winner 4-5yrs- 1st 'KPS JatzStrike'
AWHA scores: WPRB Class 32 - 3rd 'Fabian'
National Class 33 - winner 1st 'Noble Monarch'
Class 34 - 2nd 'Ferrara Aphrodite'
Class 40 - winner 1st NSW & National 'Noble Monarch' highest scoring ridden horse NSW and Nationally
National Best Presented Horse - 'Noble Monarch'
Noble Monarch and Daniella Dierks win AWHA wid Stallion ridden and led at the Trakehners Australia & AWHA Tour of 2013. Daniella and Noble Monarch then put on a Prix St George Dressage Display at the NSW Venue, in front of all spectators and visting German Classifier (above).
Noble Monarch and Daniella Dierks win 2nd in the Prix St George Dressage at Dressage New South Wales in Monarch's first ever FEI Prix St George test (above). What a fantastic result.
Noble Monarch and Daniella Dierks win 2nd in the Advanced Dressage at Dressage New South Wales with 70.1% against a very top competitive field (above).
---
February 2013
Noble Monarch has a new rider, Daniella Dierks due to Blas Lago sustaining injuries in a car accident that precludes him from riding for some time. Daniella Dierks is one of Australia's upcoming young Grand Prix riders, and with her and Blas Lago now training Noble Monarch, we hope to see much success for our lovely Trakehner Stallion.
---
November 2012
"JatzStrike", a young Trakehner Sporthorse gelding, broken, spelled and now back in work with Steven Dingwell of Cavalier Performance Horses. He's working beautifully, with three lovely gaits, quiet and very trainable. JatzStrike is up for sale to any prospective buyer who is looking for their next dressage horse - a young horse to take on with the ability and temperament to go to Grand Prix. POA.
"Noble Monarch and Blas Lago" win Advanced Horse of the Year for Sugarloaf Cobbity Equestrian Centre, taking out the wins for the Advanced 5A, 5B and 5C. They now move up to Prix St George Dressage in the New Year with Blas presently concentrating on the Grand Prix movements, and hoping to rapidly move to Grand Prix early 2013. This has been an amazing accomplishment for Noble Monarch who was trained by his previous rider Sue Walker from Young NSW to winning many Regional Competitions at Medium Level and competing at State and Nationals. Over the 7 months that Blas has trained Monarch, Monarch has shown he is now mentally ready to take on the hard work to achieve success at Grand Prix Dressage. KPWS looks forward to a successful 2013 for both of them.
---
October 2012
Noble Monarch has sired two magnificent foals in his first crop from 2011. More foals due on the ground soon....
"Salute To Monarch" is a magnificent filly, owned by Mandy Lee of Parkes NSW - see photo below. This magnificent beauty is out of the renowned Warmblood Mare 'Stirling Savannah', who has bred Grand Prix International successes. "Salute To Monarch" is a stunning example of the cross between Trakehner and other Warmblood breeds, in which modern International Breeders have found such success, producing some of the World's top equestrian althetes at Olympic Level and in all disciplines. "Salute To Monarch" is an elegant beauty, and definitely a salute to her Sire and Dam!
"Moment In Time" is a stunning colt, owned by Babette from Tamora NSW, who is thrilled with her little man - see photo below. This beautiful colt is out of a stunning TB Danehill line mare and again, the combination of the Trakehner and TB line has shown the Trakehner Verband's (Germany) mission to keep the Trakehner breed pure with TB and/or Arabian cross only to produce stunning Trakehner Sporthorses. "Moment In Time" is showing he is a special Trakehner Sporthorse, and is growing into a stunning colt with heaps of 'presence'.
Both foals are eligible for registration with the AWHA and also the Trakehners Australia.
---
12th May 2012
Exciting news! 'Saddleworld Mittagong' are now Sponsors of Kingston Park's pure Trakehner Stallion "Noble Monarch" being trained and ridden by Blas Lago, Grand Prix Dressage rider/instructor. Blas has only recently taken over the training of "Noble Monarch" and will commence campaigning him in the not too distant future. Blas is excited about 'Moni's talent and beautiful temperament', and considers he will do well at FEI Level Dressage. Kingston Park look forward to our new relationship with Blas Lago and with Saddleworld Mittagong!
In more exciting NEWS, "JatzStrike" has gone to Blas Lago for training after being broken in by Sue Walker and Brett Rosen of Young NSW. "JatzStrike" is showing he has potential and talent for Dressage. Kingston Park will continue to post updates on how he is progressing.
---
February 2012
Noble Monarch competed at 'Bradgate Park Dressage at Altitude' at Medium Level Dressage achieving 64.8%. He also competed at 'the Royal Canberra Show' and won the Medium Level Dressage, the Led Warmblood Stallion, and the Ridden Warmblood Sporthorse classes.
Sue Walker, who has been Noble Monarch's rider for the past two years and has achieved outstanding success with him, has decided that Noble Monarch should go to Blas Lago to continue his career to Grand Prix Dressage level. Sue considers the horse very talented, and feels Monarch can reach Grand Prix with Blas who has been one of Australia's top Grand Prix riders over the past 6 years.
Blas has commenced training Monarch – and is looking forward to the months ahead for Noble Monarch's career development toward Grand Prix.
Sue Walker has commenced training JatzStrike in his dressage career.
---
January 2012
Premium filly HerzAss W – registered with the Trakehner Verband in Germany, arrives in Australia, owned by Suellen and John Saals of Kingston Park Warmblood Stud.
Noble Monarch stamps his mark at the 2011 NSW Dressage Council Awards" – winning 'Elementary Horse of the Year' and taking out 'two Silver Medals' for achievement in Dressage over 2011.
---
November 2011
Noble Monarch again has had a very successful 2011, winning the 2011 "Elementary Horse of the Year" from the NSW Dressage Council, and at the NSW State Dressage Championships came 2nd in the Elementary and 11th in the Medium. He was successfully chosen to compete at the National Dressage Championships for 2011, and came a respectable 18th in a field of talented horses from all over Australia.
---
14th August 2011
Noble Monarch competed at the South West Slopes Dressage Championships and came 3rd in the Official Medium (only his 3rd Medium test) and 1st in the Official Elementary. He is now looking forward to qualifying for both levels of the NSW State Dressage Championships to be held in Tamworth, NSW on 8th - 12th September 2011. Noble Monarch is currently training at Advanced level dressage.
---
12th August 2011
Austria - "HerzAss W" passes her Trakehner Verband Registration classification with flying colors by achieving 'Premium Foal Status'. See video below. HerzAss will be imported to Australia in December 2011. Kingston Park Warmblood Stud look forward to having her join their quality mares and herd. Her future will be in Dressage and Breeding.
---
July 2011
Noble Monarch is home from his short stay at the Goulburn Valley Equine Hospital in Victoria, where he had his first two week stay for Frozen Semen collection. Noble Monarch has once again proven that he is a true gentleman; his very quiet behaviour and getting down to 'the job' without any problems impressed all of the staff including Professor Angus McKinnon, and Leann. Noble Monarch's semen is very high quality, and he has now been accepted by the international Select Breeders for export internationally. Noble Monarch will also be available for chilled semen collection in time for the 2011 breeding season. Please contact ssaals@bigpond.com.
Kingston Park Warmblood Stud have purchased a Pure Trakehner Filly registered with the Trakehner Verband from Austria! HerzAss W (Ace of Hearts) is only 3 months old and jet black with no white. The video above features HerzAss with her Dam (the jet black mare) and the rest of the herd on the stud in Riegersburg, Austria.
HerzAss W is by 'Grand Passion', who won Trakehner Stallion at the 2007 Trakehner Verband Stallion Licensing and who will be representing France in the upcoming World Championships for Young Dressage Horses 2011! HerzAss's Dam line is the famous H-dam breeding line of the original Hessian House Panker Trakehner Stud. Her Grandmother won Reserve Champion of the German National Mare Show in Verden 1990.
HerzAss will be weaned in November, 2011 and moved to Germany for agistment until she can be imported into Australia in December, 2011. HerzAss will join our other filly Arabesque as the basis for our continuing breeding of outstanding Trakehner Warmbloods in Australia.
Noble Monarch (above) with rider Sue Walker, wins the Elementary and Medium Level Dressage at Bradgate Park Winter Dressage Competition. Noble Monarch again displayed his impeccable quiet temperament, with Sue Walker riding excellent tests to win both comps. Noble Monarch will be next competing at the Young Dressage Comp in mid August - watch for results.
Noble Monarch Frozen Semen is now available from Goulburn Valley Equine Hospital, Shepperton, Victoria. Please contact ssaals@bigpond.com for orders.
Noble Monarch Chilled Semen is now available from Young Veterinary Clinic NSW. Please contact ssaals@bigpond.com for orders.
---
June 2011
Noble Monarch and Sue Walker attended the Young Dressage Association Judges Clinic as Horse/Rider combination. Noble Monarch won more fans at this event, not only due to his Dressage talent, but also because of his impeccable behaviour, especially when surrounded by 20+ judges, tents and umbrellas due to the weather. He did not put a foot wrong, and the umbrellas were not a problem at all!
Arabesque is growing up and has the most amazing movement.Her Sire "Herzensdieb, Elite Trakehner Stallion, Trakehner Verband Germany" has passed this onto his Aussie daughter! Her temperament is just as quiet as Noble Monarch and is a testament to her amazing Dam Amadea AWHA Head Studbook Trakehner Mare.
JatzStrike is ready to be broken in August - watch for news...
---
May 2011
Noble Monarch competed at the Bathurst Dressage Competition. He came 2nd and 1st in his first ever Official Medium Level Dressage competitions. He won Medium Level Champion, and qualified for the 2011 NSW State Championships.
---
April 2011
Noble Monarch attended an Ilse Schwarz Dressage Clinic over four days. Ilse Schwarz is based in Florida USA, and trains at Prix St George/Grand Prix Dressage. Her mentor and trainer is Stephan Peters, who himself is an Olympic Gold Medalist in Dressage.
---
December 2010
Noble Monarch won a Silver Medal from the NSW Dressage Council for achievements in Dressage 2010. Over the year, his new rider/trainer Sue Walker won and placed many Novice and Elementary Dressage competitions, with scores above 65% and several at 70%.
---
November 2010
Noble Monarch competed at the National Dressage Championships in Sydney. He came 13th in the Novice competition, again against a very large and competitive field.
---
September 2010
Noble Monarch competed at the NSW State Dressage Championships in Tamworth. He came 7th in the Novice Competition against a very large and difficult field.